Wednesday, 21 May 2014
When I was in LA, I was lucky enough to be able to do a promo shoot with UK singer songwriter, Gabrielle Aplin. Basically, how this shoot came about was… I found out Gabrielle was headlining the US for the first time and doing a small run of shows throughout the US at the same time I was over there. I had just finished up touring with Tonight Alive on The Used and Taking Back Sunday US Headliner and was hanging out with friends in Nashville at the time. I hit up one of my friends, Jenn who's now the Editor and Chief of US based music magazine, Highlight… to see if she would be able to organize for me to shoot Gabs LA show at the Hotel Café, as I was in LA then as it was a few days before I headed back home to Australia. Jenn got in contact with Gabrielle Aplin's Press peoples and ended up organizing for me to do a shoot with Gab before her LA show for a feature in Highlights July issue as well as to shoot the show that night. Awesome.
We had booked the shoot for around 4:30 - 5:00pm, as I wanted to take advantage of the late afternoon light. The brief for the shoot was massively laid back, just needed to have a variety of shots both vertical and horizontal that they could choose from. They only needed 1-2 images. I looked up the venue on Google Earth and used that to have a look around the venue for potential spots I could shoot. It's never 100% accurate, but it is a great way to get your bearings and find potential shoot locations to check out.
I was staying with a friend in West Hollywood so I was only about a 5-10minute drive from the venue. I caught an Uber to the venue around 3:30pm, as I wanted to explore around the venue and take some test shots of potential locations before hand. There were lots of awesome spots, I narrowed it down to 4 different locations. All were within 2minutes of the venue. Each spot had a different look and feel to it, and would narrow it down after I met Gab and see what she was wearing and what would work well with those colours etc. I messaged Gab's tour manager, Simon around 4pm saying I was here and just let me know when they were ready around 4:30. He replied back straight away and invited me in to watch Gabs sound check, which was awesome. She played a couple of tunes and then Simon introduced us. Gabs is awesome, really down to earth and easy to talk to, which always make any shoot so much easier. She was wearing this awesome blue shirt and was rocking the coolest blue/gold eye make up, so straight away I knew which 2 locations I wanted to use… both being directly across from the venue. So we walked over to the first shoot location, which was this really cool mural wall. It had lots of blues in the wall, which worked well with her shirt.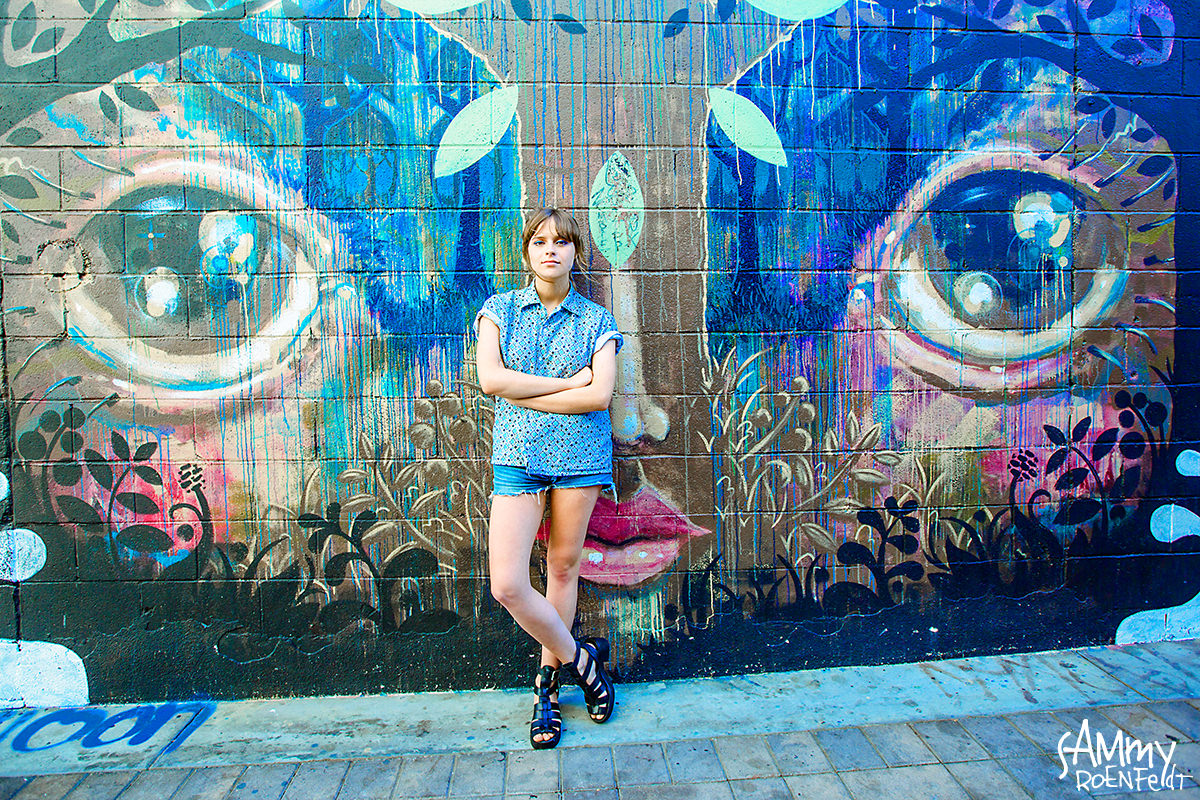 Test shot with Gabrielle.
I didn't want to shoot the whole mural as it would have been too busy for what we needed. But close up, using some of the mural as a coloured background, it worked really well. Here are the final shots from this location.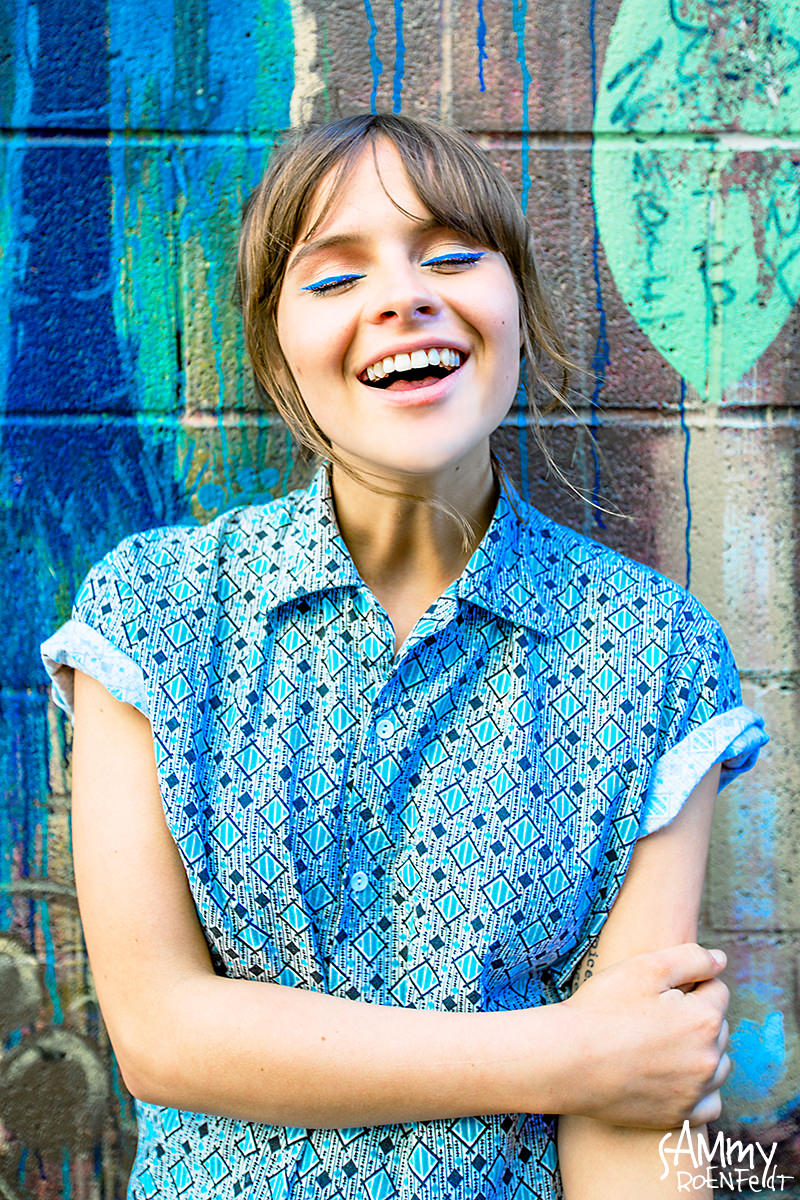 Gabrielle is an absolute natural in front of the lens, It's obvious she has done her fair share of shoots. Which makes my job, even easier. The second location was literally a 30 second walk away. It was the back of this little cafe, had some nice green vine type leaves on top of this wooden fence and the sun was starting to set and was shining through the gaps in the leaves. It was the perfect contrast with what she was wearing. Here are the final images from this location.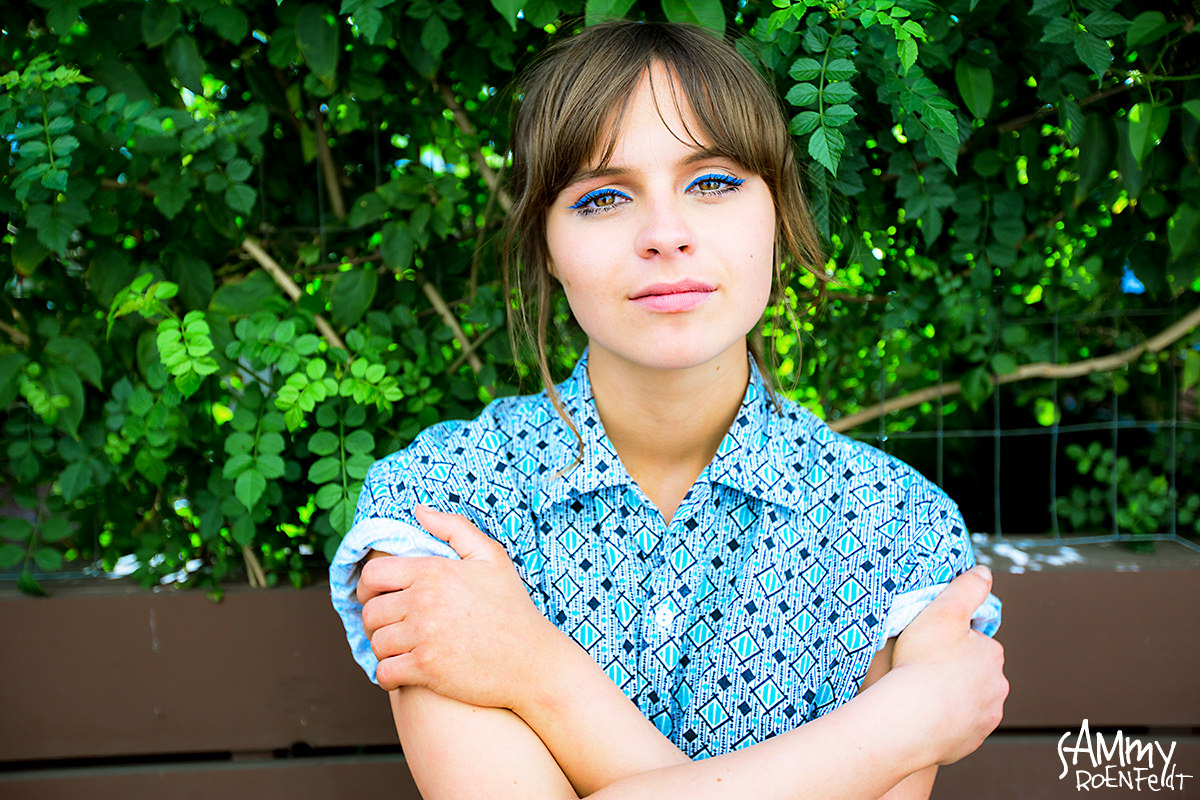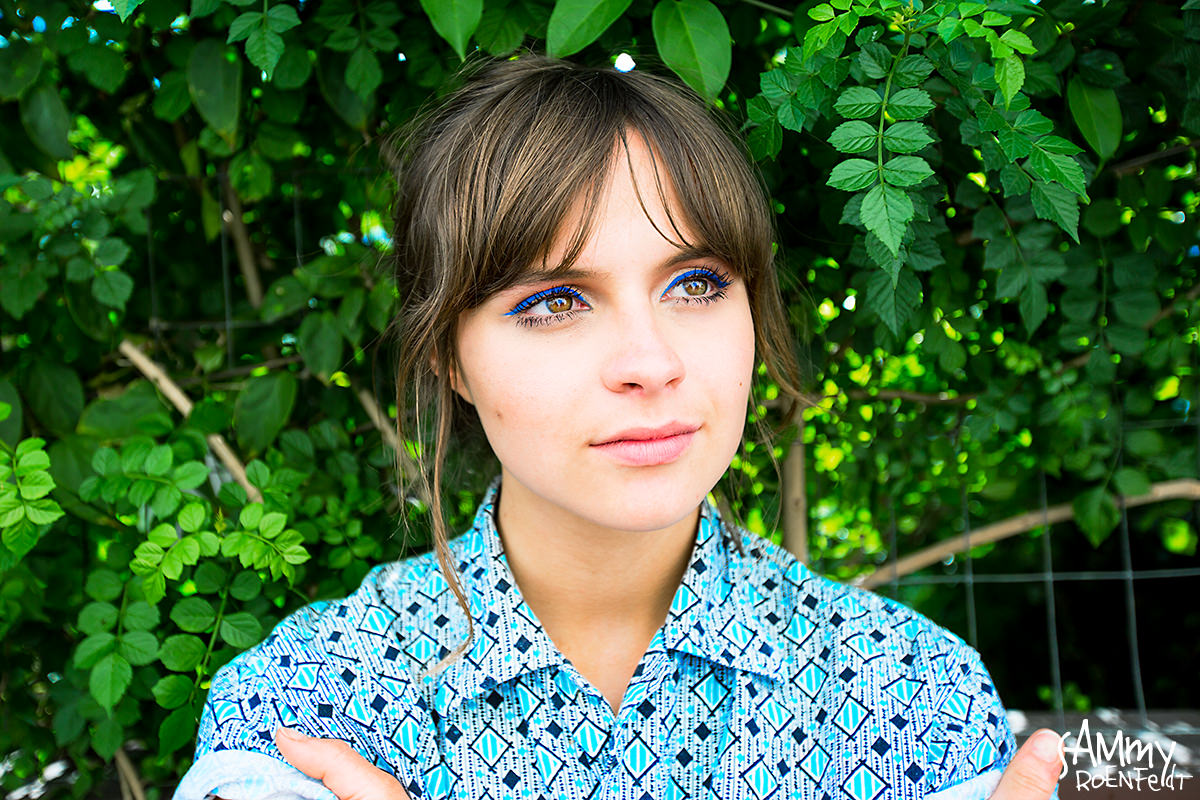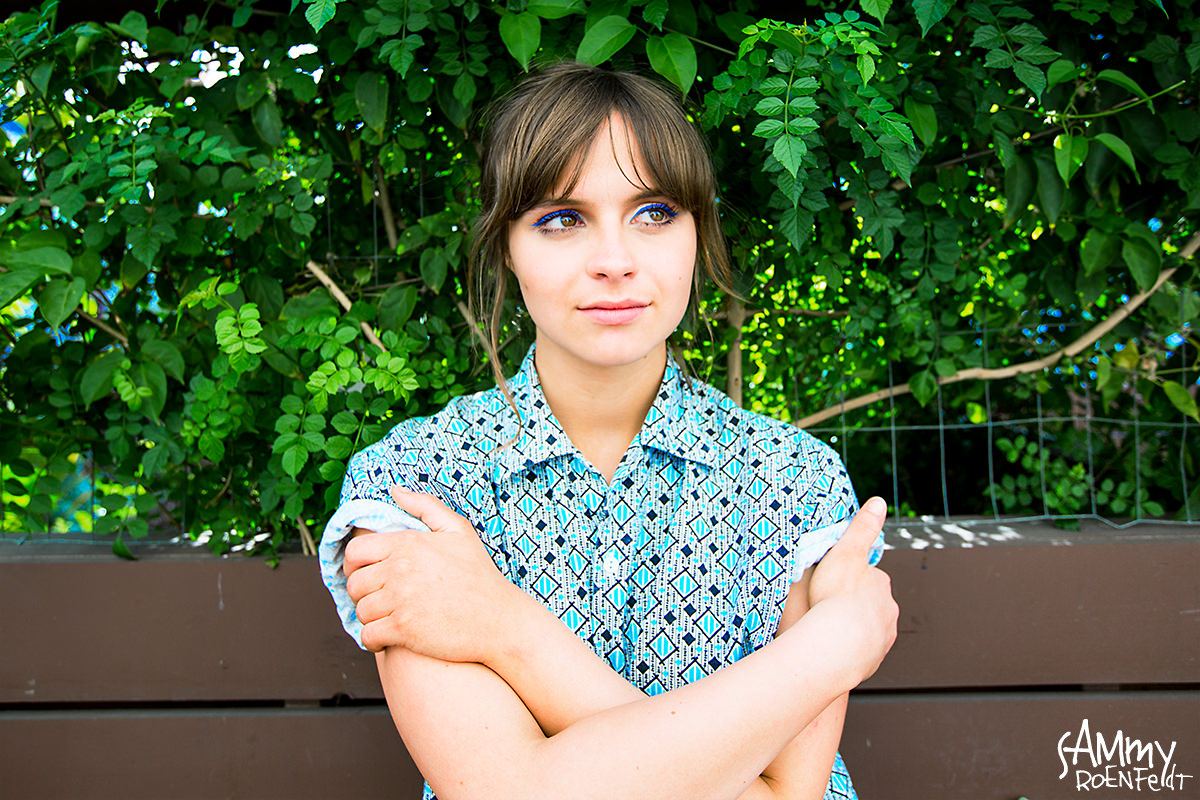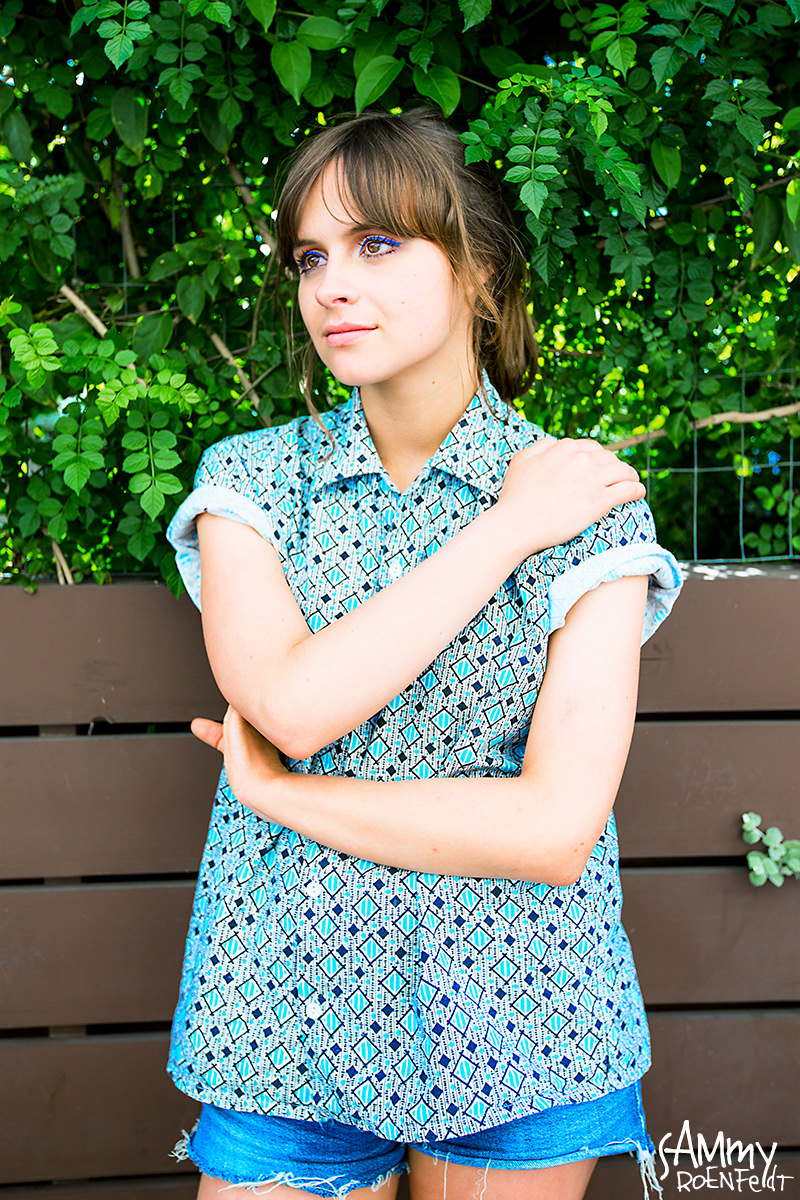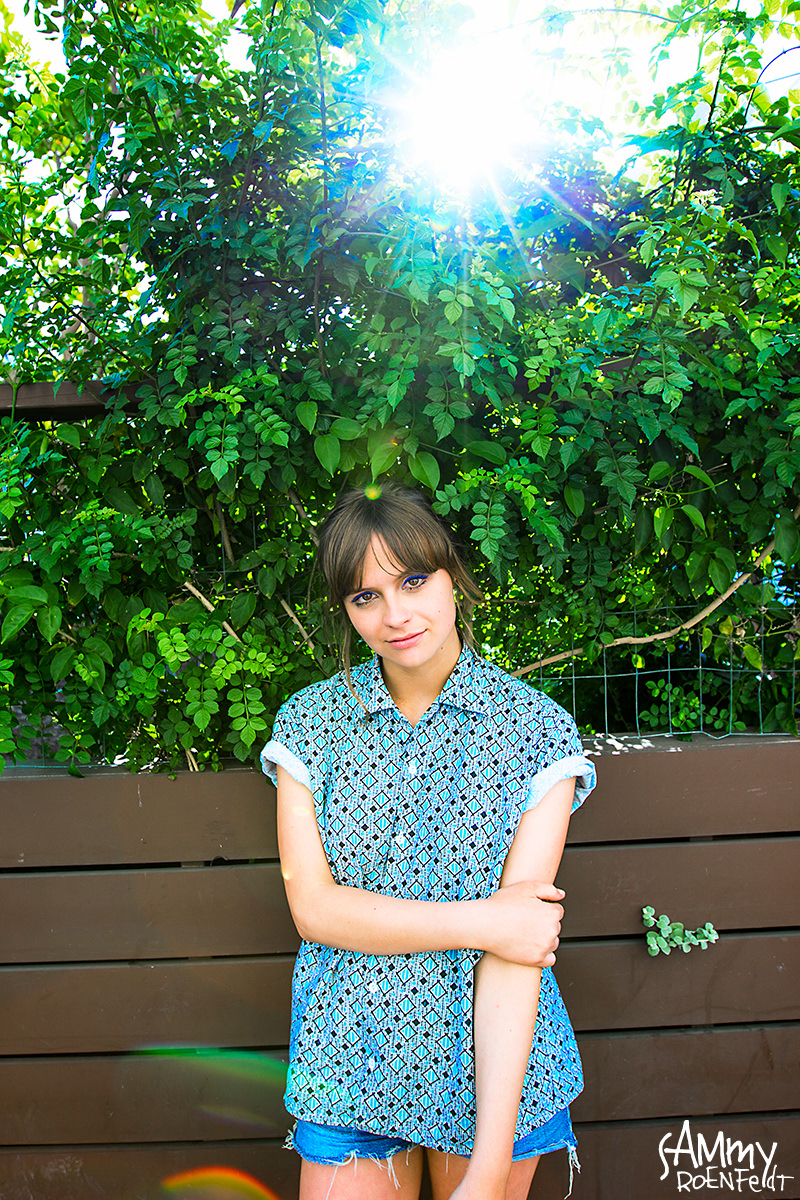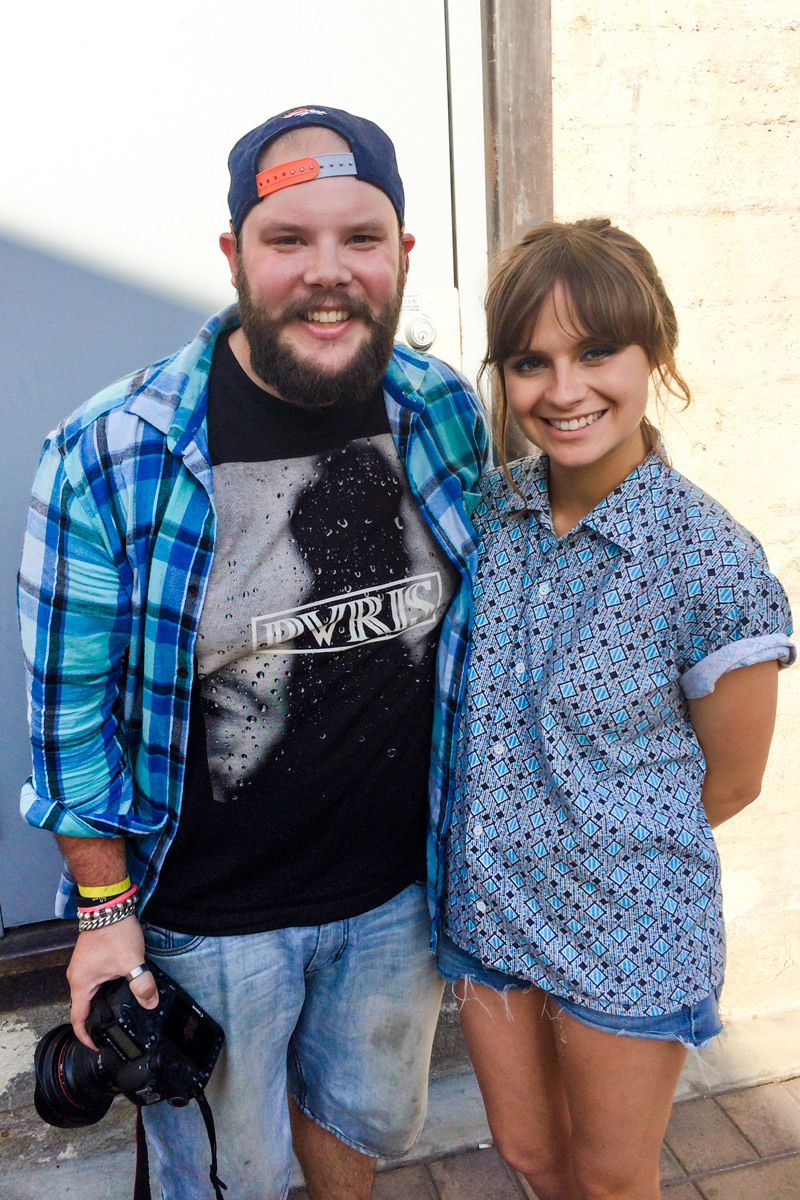 Hanging with Gab after the shoot.

So all in all, the shoot took about 15-20 minutes, kept it short and professional as I was representing Highlight Magazine and I didn't want to keep Gab too long, as she obviously had a show that night. After the shoot I hung out with Gab and her Tour Manager, Simon for a bit and then parted ways and went to find some food and a place I could sit down and go through photos. I had a bit over an hour to kill until doors opened... so I found a diner down the road (which had amazing fried chicken) and sat down and went through photos...and ate lots of delicious fried chicken. Did I mention it was delicious?
I then headed back to The Hotel Cafe', checked my name off at the door and found a spot right next to the stage. The venue was really awesome, small and intimate. People were sitting on chairs right in front of the stage and had a really laid back atmosphere. So many artists have made their LA debut at this particular venue., so I was stoked to be able to shoot Gab's very first LA show. Some of my favourite shots below.